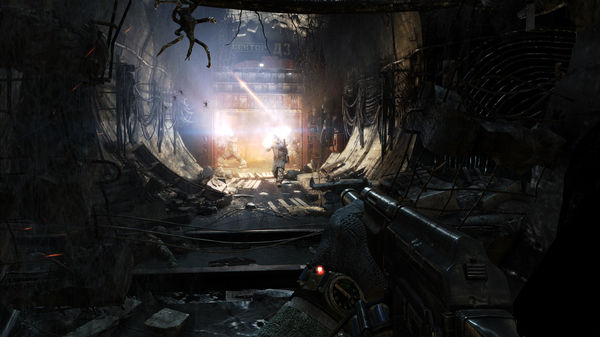 Hardcore gamers who also happen to be Nintendo fans may be shifting uncomfortably in their seats after a pair of announcements about Wii U Tuesday, exactly one week away from the company's big E3 reveal.
It seems that first-person-shooter Metro: Last Light won't be coming to the Wii U. Not yet, or at least not in early 2013, when the game is set to be released on PlayStation 3, Xbox 360 and PC, according to a statement from spokesman for THQ, the game's developer. Said THQ Global Brand Manager Mark Madsen:
"As we got along in the development process, we just really wanted to focus on what we knew, focus on PS3, 360 and PC. The verdict is out on what we can do to maximise the code for the Wii U, and we'll see [what happens]."
One game down; so what might fill that void? Well, how about Jett Tailfin, an underwater racing game that puts players in the roles of various fish, like Phil A. Salmon, Hal Hammerhead, and Tim Lapia? (No, I'm not making those names up.)
Announced by Maximum Games Tuesday, Jett Tailfin will be a simultaneous release on the upcoming Wii U and the Nintendo 3DS. A version of the game is currently being sold for $2.99 on Google Play. One would think the forthcoming game will have a little bit more to it to justify the typical prices of 3DS and console discs.
"Created by Hoplite Research, LLC and Ilusis Interactive Graphics, the characters and effects feature motion-blur shaders and other advanced underwater lighting effects. Combined with family-friendly gameplay and intuitive multiplayer modes, Jett Tailfin™ will make its Wii U debut as one of the few games appropriate for all ages.

"We are excited to team with Maximum Games, a company that understands innovative gameplay" said Manny Granillo, president of Hoplite Research, LLC. "And we are pleased to put forth a game that players 8 to 80 will enjoy!"
Clearly game companies think the kids and their parents are going to be back on board for Wii U, which explains the planning and existence of Jett Tailfin. Hey, we never know where the next gem is going to come from, right?
Anyway, it's best to put some distance between today and the next time you want to argue with your friends about whether or not Nintendo is still hardcore.